2008
38 min.
German
A documentary film about former AEG workers in Nuremberg. The site was
closed and most of the people stayed unemployed. 2008 the state theatre
decided to make a documentary theatre play with 15 former workers. This
is a story about them and 3 other who decided to start a new business
and became freelancers. Life goes on. Most of them are a bit nostalgic
but positive at the same time.
Shown at the "Arbeitswoche" at the State theatre Nurnberg 2008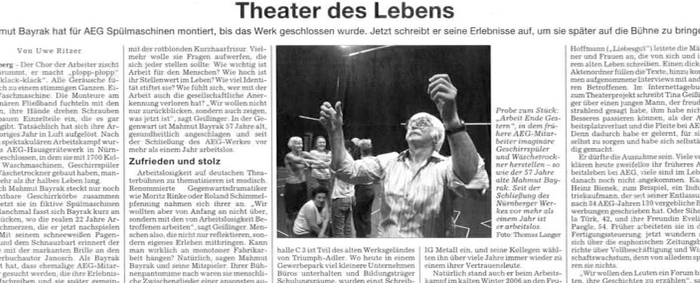 Director: Nataša von Kopp
Cinematographer: Wolfgang Busch
Editor: Sven Kulik
Produced by Sleeping Tiger
Formate: 16:9 – Mini DV