STILL and MOVING IMAGES – TEACHING
Works as an independent filmmaker, photographer, as a teacher of film and film history and makes film and photography workshops with children.
Born in Baden-Baden. Grew up in Germany, Czechoslovakia and Japan. Between 1994 and 2001 studied in Heidelberg East Asian Art and Japanese studies, in Prague Japanese studies and History of Art and in Karlsruhe Media and Film theory, animation and editing. In 1996 worked for a year in the Prague National Gallery and in the National Museum. 2001 Magister Atrium in East Asian Art and Japanese studies at the University in Heidelberg. From 2001 until 2006 student at the 'Filmakademie Baden-Wuerttemberg'. Scholarship holder at the Markel Stiftung from 2001-2005. 2005 scholarship holder for the Hollywood Workshop at UCLA. 2007 finished the diploma work WORLDSTAR. 2008 scholarship holder at the Academy of Arts in Berlin. 2011 finished the film FUTURE WORKS. Worked as a teacher at the Pforzheim Fachhochschule during the years 2006-2011. Was part of the project "Ein Traum von Anklam" which was nominated for the BKM Preis – Kulturelle Bildung 2013.
original Sleeping Tiger: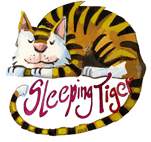 The Sleeping Tiger was invented while working on the short film SCHWEJKING, the label was designed by Derek Roczen who also designed the character of Schwejk.
The new Tiger is designed by Anders Bergesen (Superultraplus) who also designed the "Worldstar" and "Future Works" posters and DVD covers.